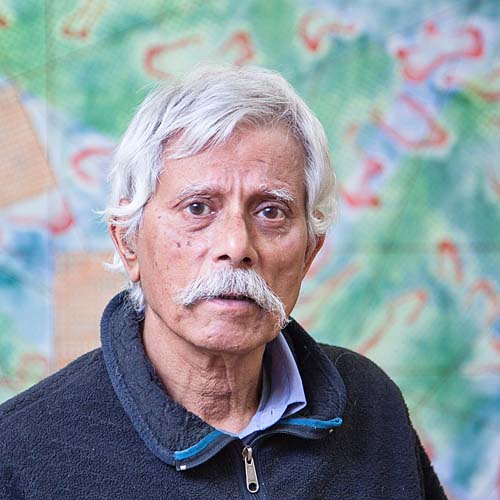 David Kandalkar was born in 1941 in India and emigrated when he was 12 years old with his older brother to Israel, where he grew up in a childrens village of an agricultural college. Already at his young age as a child his artistic bent was recognized and supported. When he was 15 years old he met Marcel Janco, one of the dadaists from the very first minute. The old master of Dadaism was straightaway convinced of David's talent and invited him to a summer's academy which was actually for students at a much higher age. Marcel Janco accpanied David's work and supported him in his artistic development for the next seven years.
After his military service David Kandalkar began to work as an artist and stage designer at different theatres in Israel until he decided 1966 to leave the stage and dedicate himself solely to his paintings and sculptures. In the year 1967 he emigrated a second time, this time to London.
David Kandalkar lived since 1980 in Zurich where he also had his studio. He died on April, 19. 2019 in Bellinzona.
Selected Exhibitions
Stadttheater, Luzern (1966)
Gelerie Atelier-Theater, Bern (1969)
Artist Place, London (1970)
Kings Gallery, London (1971)
Theater-Gallerie, Hamburg (1972)
Kunstkeller, Kriens (1972)
M. Ayres Gallery, London (1974)
Galerie Arrigo, Zürich (1983/86)
Shai Danon Gallery, Tel Aviv (1986)
Galerie Kunst und Design, Zürich (1987)
Galerie Koller, Zürich (1987)
Kunst im Belvoir-Park, Rüschlikon (1989)
Galerie Palette, Zürich (1990/93)
Galerie im Höchhus, Küsnacht (1995)
Galerie Atelier 497 – Kunst am See, Zürich (2010/12)